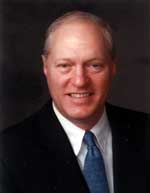 David C. Simons is president of Simons Political Group, a government relations and business consulting firm. His experience as a corporate lobbyist and a congressional aide has allowed him to successfully integrate the business community with the legislative arena.
As a senior legislative aide for a member of the House of Representatives serving on the Ways and Means Committee, Simons was instrumental in several key congressional initiatives. One of his accomplishments included working on the repeal of section 89. This tax provision would have increased the regulatory bureaucracy regarding non-discrimination rules for employer provided healthcare. Simons' work with a capital gains differential also included his creation and organization of the much publicized capital gains hearings of 1988.
After leaving Capitol Hill, Simons became Manager of Congressional Affairs with Eaton Corporation, a Fortune 100 company. Serving as the top lobbyist, Simons advocated the corporation's position on legislative initiatives to Members of Congress, federal government agencies and the administration. He worked with various trade associations and business advocacy groups to influence legislation. Simons also served as Eaton Corporation's political action committee (PAC) coordinator.
Locally, as a member of the Savannah Area Chamber of Commerce, Simons serves on the Board of Directors. In 1999, the Chamber presented the "Entrepreneur of the Year Award" to his political consulting firm. The following year, he was named a 40 under 40 business leader by the Savannah Business Report & Journal. He has also received the Small Business Advocate of the Year from the Small Business Chamber. He recently joined the corporate advisory board of the Spine & Sport Company.
A graduate of MacMurray College with a Bachelor of Science degree in Business and a Bachelor of Science degree in Political Science, Simons also earned a Masters of Business Administration from Golden Gate University. He is a graduate of Leadership Savannah.
He has served on active duty with the U.S. Army Special Forces ("Green Berets") and currently serves as a public affairs officer in the Georgia Air National Guard. In 2005, he completed a tour of duty with the 386th Air Expeditionary Wing in Southwest Asia where he flew 35 combat sorties as a public affairs officer. He recently completed a second tour of duty in Afghanistan as the Director of Public Affairs for the NATO Training Mission - Afghanistan. He lives in Savannah with his wife and two children.